Ensuring members are rewarded wherever their travels take them across the globe, VOILÀ Hotel Rewards (http://voilahotels.com), the world's number one independent hotel loyalty program, today launched the VOILÀ Hotel Rewards Visa Signature® Card. Issued by Commerce Bank, the new card provides VOILÀ members in the U.S. with a number of ways to earn exceptional rewards and exclusive benefits for their everyday purchases.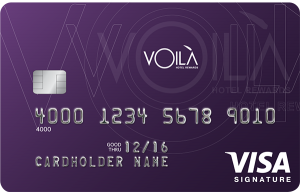 "At Commerce, we continuously look for new opportunities to expand our brand and product offerings. As an up and coming brand in the hospitality space, Commerce sees a great growth opportunity in partnering with VOILÀ to offer a desirable rewards card to their members," said Chad Doza, Senior Vice President of Consumer Credit Card.
VOILÀ Hotel Rewards Visa Signature Card holders can easily turn travel and non-travel spending into complimentary Award Nights at hundreds of participating hotels in the VOILÀ network. Beyond free Award Night stays, members can also exchange the bonus points they earn for airline miles, gift cards, charitable donations, online entertainment and more.
"We designed the VOILÀ Hotel Rewards Visa Signature Card with our members in mind. This new card will offer multiple benefits and all the service and security of a Visa Signature card," said Peter Gorla, managing director of VOILÀ Hotel Rewards. "We know travel is all about experiences and those aren't limited to the hotel stay. That's why the card lets members enjoy worldwide rewards on a variety of travel purchases from airfare, taxis, trains, and dining out, in addition to earning points on everyday expenses like grocery or fuel purchases so they can reach their next memorable vacation even quicker."
Starting today, VOILÀ members in the U.S. can apply online at http://www.vhr.com/credit-card/. The VOILÀ Hotel Rewards Visa Signature Card has no annual fee and offers card members a number of privileges including:
20,000 bonus points after $1,000 in purchases within 90 days of account opening, redeemable towards a complimentary Award Night
5 VOILÀ points per $1 at participating VOILÀ Hotels
1 VOILÀ point per $1 everywhere else VISA is accepted, plus the opportunity to earn bonus points for different purchase categories throughout the year
An additional 50% bonus on your purchases at VOILÀ Participating Hotels when you spend over $10,000 each year
Free FICO® Score on monthly credit card statement
Access to toggle® – a free and flexible way to manage your credit card spend while earning more rewards
Points earned on the VOILÀ Hotel Rewards Visa Signature card are in addition to the 10 VOILÀ points per US Dollar earned by members for stays at participating hotels in the VOILÀ network. The card also provides exclusive benefits at a collection of over 900 of the world properties in the Visa Signature Luxury Hotel Collection, lost luggage reimbursement, and access to the Visa Signature concierge for travel planning assistance.
"Whether you're seeking adventures around the world or simply shopping in your neighborhood, we want every purchase our members make to be more rewarding," continued Gorla. "No matter what you're doing or where you're going, the new VOILÀ Hotel Rewards Visa Signature Card rewards you for your purchases so you can, in turn, reward yourself with everything from hotel nights to flights or online entertainment."
The VOILÀ Hotel Rewards Visa Signature Card also provides a substantial upside for hotels that participate in the global VOILÀ Hotel Rewards network. Stays from hotel guests using the card adds no additional costs for participating hotels, as all points and bonus points earned at the hotel are funded by VOILÀ. Also, due to the bonus points cardholding members will receive, hotels will benefit from the increased incentive for members to visit participating VOILÀ hotels more often, to stay longer and to spend more during each stay.
For more information on the VOILÀ Hotel Rewards Visa Signature Card, and to apply online, please visit http://www.vhr.com/credit-card/.
To become a VOILÀ Hotel Rewards member, please visit http://www.vhr.com/.
About Commerce Bancshares, Inc.
Commerce Bancshares, Inc. (NASDAQ: CBSH), is a regional bank holding company with $24.7 billion in assets, as of June 30, 2016. For more than 150 years, Commerce Bank, a subsidiary of Commerce Bancshares, Inc., has been meeting the financial services needs of individuals and businesses. Commerce provides a full range of financial products to consumer and commercial customers, including personal banking, lending, mortgage banking, wealth management, brokerage and capital markets services. Commerce operates in more than 340 locations in the central United States and has a nationwide presence in the commercial payments industry. Commerce Bancshares also has operating subsidiaries involved in leasing, credit-related insurance and private equity activities.
For additional information, please visit www.commercebank.com.
About VOILÀ Hotel Rewards
VOILÀ is the world's number one loyalty program that unites hundreds of select independent hotels comprising over 20 select global hotel brands. The program first launched in 2008 and has developed a reputation among travelers who like to stay in original, up-market independent properties for its compelling promotions, ease of use and simple, quick redemption process.
VOILÀ's co-branded, fully customized guest loyalty programs support travelers who frequent hotels and groups including .
VOILÀ's points-based frequency guest program provides recognition benefits and room redemption opportunities at participating network hotels. But unlike big chain programs, VOILÀ enables independent hotel groups to maintain their branding and unique qualities. To achieve this, VOILÀ provides hotel- or group-branded solutions for our partner hotels, with VOILÀ acting as the supporting network (similar to Star Alliance or OneWorld for frequent flyer programs). VOILÀ's global presence allows members to earn and redeem points across a wide variety of hotels and redemption partners in the VOILÀ global network.
In addition to Award Night rewards, VOILÀ's members benefit by redeeming their points with a large number of global redemption partners, including .
From the consumer's perspective, this means members can enjoy the rich experiences and extraordinary qualities independent hotels offer while earning points and receiving benefits typically tied to big chain loyalty programs.
For more information, please visit:
VOILÀ Hotel Rewards
Mr. Peter Gorla
Managing Director
Direct: +1 (949) 260-9538
Email: peter@vhr.com
LinkedIn: http://linkedin.com/in/gorla
Twitter: http://twitter.com/petergorla