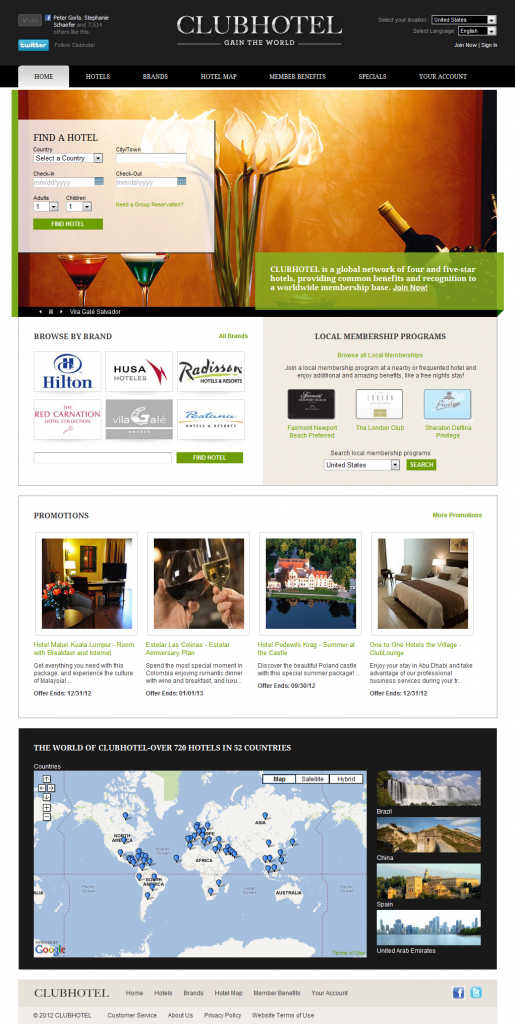 CLUBHOTEL® (www.clubhotel.com) boasts the largest variety of brands and independent properties around the world. The program is currently offered at over 720 luxury hotels in 52 countries and in more than 447 cities. Established in 1996, CLUBHOTEL has generated staggering results, representing tens of thousands of incremental room nights for participating hotels each year.
Created by hoteliers for hoteliers, CLUBHOTEL is specifically designed to grow in-market revenue from the ever-growing SME market by building a qualified, local consumer base and generating incremental revenue through a global network of established brands and independent properties. For new market entrant hotels, CLUBHOTEL helps raise awareness. For existing hotels, it ensures market presence is reinforced and not lost amongst the competition. More importantly, CLUBHOTEL is a paid membership program that delivers a targeted foundation audience, generating incremental rooms and F&B revenue, banqueting and wedding sales leads.
CLUBHOTEL attracts the lucrative local SME market, which includes business executives and professionals with high disposable incomes. Members receive recognition and enjoy benefits immediately, without the need to wait for point accumulation. The primary focus of CLUBHOTEL is to generate recurring F&B and room revenue for partner hotels from local SME markets that hotel sales department and frequent guest programs typically do not reach.
Participating hotels receive room spending from direct bookings and F&B spend from their local markets while simultaneously gaining exposure to CLUBHOTEL members around the globe. To date, CLUBHOTEL generates over 350,000 room nights each year and thousands of room nights booked directly by more than 500,000 members.
Moreover, hoteliers who join the CLUBHOTEL network begin to see a channel shift to more profitable direct-booking channels and a reduction in reliance on third-party booking channels, thereby lessening their dependence on OTA and Opaque Sites, lowering distribution costs, and increasing ADR, occupancy, and profits.
The CLUBHOTEL model requires no capital expenditure from hotels and there is no fee to pay. It consists of a well-balanced, turnkey program of value-based benefits for members, no-cost, unlimited member marketing for participating hotels, and a direct sales program unmatched in the industry. CLUBHOTEL strategically utilizes a multi-channel mix of telemarketing, group and bulk/partnership sales opportunities and online sales approaches to reach the SME market and to stimulate incremental revenues for participating hotels.