HMC will install POS and PMS interfaces at each partner hotel. This interface will link to the F&B POS, and if desired the front office PMS systems. HMC's technical team provides interfaces with all the major systems and has the expertise to build new interfaces if required. HMC can install 'Real-Time' tracking giving the partner hotel real time information of member usage.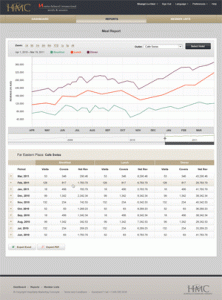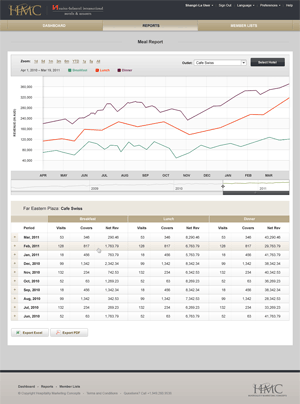 Each membership package includes an electronic encoded membership card. When the member visits the hotel and the card is swiped, membership data is flagged in the POS/PMS system and data is captured including but not limited to: outlet, meal period, covers, revenue, F&B split, frequency of use, and cross hotel use. Data is stored to build up usage history for period to period comparison.
CRM Usage Data
Usage data is collected automatically and electronically in real time at the POS and PMS terminals at the hotel, transmitted to the Oracle Data Warehouse and analyzed in the report generator. This data is then made available for viewing and download by hotels in real time (depending on hotel connectivity).
Activity is downloaded to the member's profile to build usage history.  Member performance is then accessed / analyzed by partner hotels using a unique user ID and password to generate detailed exportable reports in a variety of formats or graphs including historical data, top spenders, usage, meal period analysis and trends.
Confidential tracking reports are available on a monthly basis via hard copy or can be obtained by accessing the HMC CRM, our Customer Relationship Management application, using your web browser.